Oktoberfest Is Here!
As a beer fan, Oktoberfest is one of the events everyone wants to attend at least once. Each year, millions of revellers descend on Munich, Germany for the world's largest celebration of Bavarian culture and, of course, beer.
Originally hosted in October 1810 on the 'Wiesn', Oktoberfest is now a September tradition around the world. This year, festivities kick off Saturday 22 September and officially wind down Sunday 7 October in Munich, but London's festivities will carry on until Halloween!
In Munich the only beer served comes from local breweries such as Augustiner, Paulaner and Spaten, with one-litre glasses of Helles being the most popular. Each brewery hosts one of the 14 famously decorated tents, which can hold anywhere from 98 to 10000 people, so whether you're looking for a raucous party, a family-friendly get together, or a more intimate Bavarian experience, Munich has it all.
If you won't make it to Munich this year, or if you're looking to extend your festival experience, London's calendar is packed with events across the city and you can drop by indiebeer to check out our Oktoberfest selection!
For 2018, we have two Oktoberfest style beers on tap.
Ayinger Oktober Fest Märzen is a German Lager brewed exclusively to coincide with the festival. A clear medium amber with a deep aroma of sweet malt and a crisp, balanced flavour of toasted grain and honey. Smooth and endlessly drinkable it's been an Oktoberfest favourite since 2015.
Gipsy Hill Wiesn is a UK Lager brewed back in June especially for this year's Oktoberfest. Described as "slightly sweet, nutty, smooth and delicious".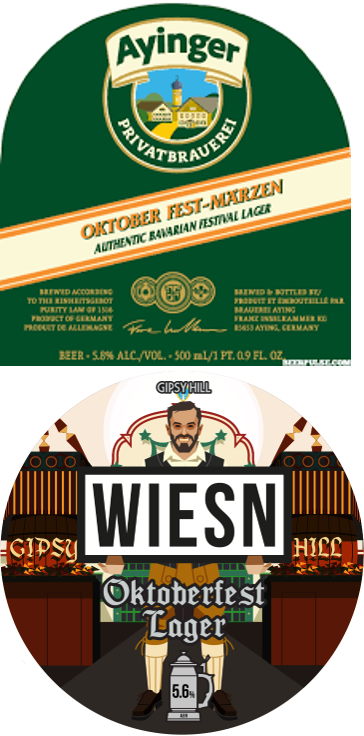 You can also mix and match the other German bottles we have in stock from Augustiner, Ayinger and Schlenkerla for the season.
Augustiner Helles will be one of the more popular beers on tap in Munich this year. Helles means 'light-coloured', and this crisp, smooth and wildly popular summer beer is perfect for savouring those last days of summer.
We have two other Ayinger beers in stock: Jahundrt and Celebrator.
Jahundrt is a Dortmunder, a stronger, malt-accented pale lager with a golden colour, an initial flavour of sweet honey and a slightly bitter finish.
Celebrator is a dark Doppelbock with a dominant malty taste and coffee tones. A traditionally brewed classic perfect for the transition into cooler autumn evenings.
To round it off, we have two Schlenkerla variations, Helles and Marzen, perfect for nights around an early autumn campfire.
Though the Helles is a traditional lager and not a smoked beer, it does have subtle hints of smokiness that blend with the hoppy grass tones.
The Marzen is a classic dark, bottom fermented smokebeer with heavy smoke tones that would pair well with an Oktoberfest meal of sausage and a pretzel.

26 September - 20 October, Bavarian Beerhouse Oktoberfest (Old Street & Tower Hill)
http://www.bavarian-beerhouse.co.uk/london/oktoberfest/
The UK's longest running Oktoberfest with over 180,000 visitors each year. Tickets will get you allocated seats, table service from real Bavarian barmaids, great food and beer, and traditional Oompah entertainers!
27 September - 28 October, Erdinger Oktoberfest (Queen Elizabeth Olympic Park)
https://erdinger-oktoberfest.co.uk/
Hosted by the Erdinger brewery each year, the main celebration is held in the traditionally decorated tent which holds 3000 people, and the surrounding festival grounds boasts rides, food, and music for the family.
Saturdays throughout October, Brixton Oktoberfest (Brixton Jamm)
https://brixtonoktoberfest.com
Take the traditionally Bavarian Oktoberfest and give it a Berlin twist with street food, and unrivalled selection of craft beers, and a lineup of German DJ's.
3 - 6 October, Oktoberfesten at Flat Iron Square (Southbank)
If you're a foodie, you know Flat Iron Square has you covered and Oktoberfest is no exception. Come for the food and beer, and enjoy German-themed games and music!
4 - 14 October & 18 - 31 October, London Oktoberfest 2018 (Canary Wharf & Finsbury Park)
http://london-oktoberfest.co.uk/index.html
Celebrate Oktoberfest in a traditional blue and white tent at Millwall Park. Dance on communal benches to live Oompah music with around 50,000 guests!
Or check out the Halloween Special at Finsbury Park!
12 - 14 October, Heist Bank Beer Festival (Paddington)
https://heistbankbeerfestival.com/
With over 50 taps from UK, Australian and Scandinavian breweries and a 12 tap takeover by three top breweries to launch "special seasonal releases and collaborative brews", Heist Bank is the place to be. Get stuck in with workshops, tastings, and more!
13 October & 20 October, The Official Camden Oktoberfest (Electric Ballroom)
http://www.camdenoktoberfest.com/
The Electric Ballroom will be "transformed into a fully decked-out, traditional Bavarian beerhall" serving up giant steins of Spaten, Löwenbräu & Becks to live music from THE OLD DIRTY BRASSTARDS. Fancy dress is encouraged!
18 - 19 October, London Bierfest (Old Billingsgate Market)
http://www.thelondonbierfest.com/
Looking for an event where you can take coworkers or potential clients? Bierfest is London's leading corporate hospitality event and you can book tables for up to 10 to enjoy unlimited steins, live music, and platters of traditional German food.