Gluten Free Beers - Life After The Sale Of Magic Rock
While the sale of Magic Rock Brewery to Australia's Lion Group (subsidiary of Kirin) may not have had a huge impact on a lot of beer drinkers, it was our Gluten Free (GF) beer drinking customers that leapt to the forefront of our minds.
Over the last year the two Magic Rock Gluten Free beers Fantasma and Saucery have become firm customer favourites at indiebeer. Finding replacements for these and widening our range became a huge priority for us.
The loss of these hoppy beers from our shelves might still impact on the number of customers that visit our store, but we are determined to ensure that Gluten Free beer drinkers will continue to get as diverse and as high quality products as our regular beer drinkers.
The quality and taste of the new beers that we have found make us think it might not be long before these gluten free beers merge into the regular drinkers market. They really are that good!
It is great to see gluten free getting such increasing focus from breweries.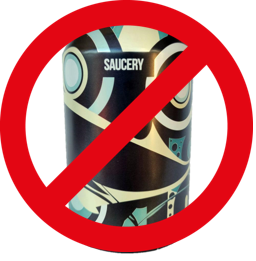 So What Is Gluten Free Beer...
This is where we put a BIG DISCLAIMER!
While we sell beers that are approved to be labelled as Gluten Free, their suitability actually differs depending on just how gluten intolerant you are. Here we outline the two main types of Gluten Free beer production methods. Most of the beers currently in production by craft breweries are produced using the second method, which for coeliacs is not always considered to be safe enough.
Fyi, Magic Rock beers fall into the 2nd category so in theory if you were drinking those without any issues you should be OK with other beers produced using this method.
Beers brewed mainly from cereals such as millet, rice, sorghum, buckwheat and corn (maize), which do not contain gluten. These do not trigger an autoimmune response in coeliacs.
Simply put, with these beers, what goes into the mash does not contain gluten.
Some brewers brew with barley or rye, and reduce the level of gluten to below 20 ppm.
In the UK this technically classifies them as gluten free beers.
Westerham brewery have produced a great infographic guide to this method of brewing gluten free beers, which you can find at the following link:
https://westerhambrewery.co.uk/how-we-make-real-beer-gluten-free/

The Gluten Free Beers We Now Have In Store
New This Week

Mikkeller Weird Weather New England IPA (6.7%)
Yes, there is no doubt that Mikkeller beers lean towards the more expensive end of the scale but WOW, this beer really is delicious. We would challenge any fan of New England haze not to enjoy this.

Brass Castle Bad Kitty (5.5%)
A customer favourite has returned. A chewy chocolate-vanilla dream of a porter.
Brass Castle Disruptor IPA (7.4%)
A devilishly drinkable hazy New England style IPA hopped with Mosaic, Simcoe, Comet & Citra for big fruit aroma and flavour.

Brass Castle The Western Wall Wheat (5.2%)
The Western Wall is a strudel inspired Weissbier, with plenty of apple, cinnamon & toffee notes. This is part of a Bigger Picture series of nine beers, the labels of which highlight Yorkshire myths and legends, whilst also forming a genuine treasure map.

Jakes Saffron Beer (4.8%)
Lightly hopped, smooth lager that marries subtle saffron flavours with hints of honeycomb and tangerine. To many people saffron is a bit of a mystery. However, when used carefully, it is an incredible flavour enhancer, pulling out ingredients within and making them linger on the tongue. That's why, in a world of highly hopped beers, Jake's has created this subtle, smooth style lager that allows the saffron to flourish and bring out the best in the beer's delicate balance of bitter and aromatic hops.

Already In Our Range

Westerham Helles Lager (4%)
SIBA Gold Award Winner 2017 - Standard Lager and Pilsners. A beautifully delicate but hoppy Helles style lager. Hopped with German Hallertau Tradition and lagered a minimum of 4 weeks.

Westerham Gold Rush American Pale Ale (4.5%)
Colorado-style American Pale Ale. Brewed with 4 malts to create a complex malt backbone for the 6 American hops that drive a robust but balanced hop forward amber ale.

Coming Soon

Westerham Wally Winkers Death By Chocolate (4.5%)
A decadent triple-chocolate stout with an intensely sweet, chocolatey nose. This is balanced by a medium-dry flavour of bitter chocolate rounded out by hints of sweet vanilla. Coming in at an easy-drinking 4.5% ABV its light mouthfeel beautifully compliments its rich aroma.